The End 1: and Beyond
So life began without much chance for further original BBI programs. The eBay prop auction was in full swing and Save MST sites were still looking for any signs of hope, but none were coming. The BBI alumni continued to keep busy in various creative outlets.
On 9/16/99 Josh's play I Was the World's Most Famous Juggler (and Other Dirty Laundry) had its west-coast debut at the Globe Playhouse in West Hollywood. The play had already been produced in Minneapolis.
A new show called Freaks and Geeks premiered Saturday, 9/25/99 at 8 PM on NBC. Josh was producer and writer. The show was a true to life, low-key comedy about high school life set in 1980 Michigan.
In October the SFC moved the time from 11 AM to 9 AM Saturday. Also that month on 10/5/99 Rhino released Skydivers, Catalina Caper and Shorts 2.
Frank appeared in Review Revue at the Improv Olympic West in LA from 10/31 – 11/28/99.
On 11/14/99 during the first season of the Food Network show Good Eats there was a special Thanksgiving episode called Romancing The Bird. Host Alton Brown described the science behind cooking your turkey. To demonstrate the effects of brining he was joined by Shirley Corriher, described as a "mad food scientist" who lead us into the Mystery Food Science Theater. When the doors of the theater opened there was a turkey just waiting to be soaked in brine.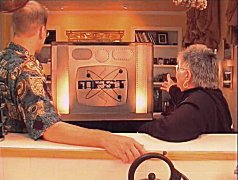 Mike was also keeping busy. He joined Paul on the staff at the on-line magazine Ironminds on 11/18/99. He also had a feature article about Minnesota governor Jesse Ventura in the 11/27/99 issue of TV Guide.
An announcement came out 12/14/99 that the Hodgson brothers had signed a deal with Noggin, a 24-hour educational network, and co-production with Jim Henson Productions, to develop new shows.
The Dec 99/ Jan 00 issue #31 of Modeler's Resource had two articles about MST3K the model kit and bot building. The model was also featured on the cover.
MSTies were happy to hear about a Chain Reaction on the SFC dedicated to MST3K. Fans were polled to decide the five episodes, which aired starting at 9 AM on 12/27/99. It was a little surprising to learn that the SFC had already lost the rights to eight episodes, including two from season 10. The final poll results were:
| | | | |
| --- | --- | --- | --- |
| 5 | 9 AM | 816 | Prince of Space |
| 4 | 11 AM | 903 | Puma Man |
| 3 | 1 PM | 817 | Horror of Party Beach |
| 2 | 3 PM | 815 | Agent for h.a.r.m. |
| 1 | 5 PM | 812 | Incredibly Strange Creatures... |
The turn of the century (or not) brought with it a new option from the Satellite News. They began a subscription service on 1/1/00 to directly send news updates and information via email using Topica.
Kevin joined Mike and Paul at Ironminds on 1/5/00. Unfortunately, the on-line mag would discontinue service on 3/9/00. Even though it started back up a few months later none of the ex-MST folks rejoined the writing staff.
Freaks and Geeks aired an episode entitled Carded and Discarded on 1/10/00. MSTies were ecstatic to see Trace playing a science teacher named Hector Lacovara and Joel playing a long-haired, polyester clad clothing salesman. The next week on 1/17/00 Trace appeared again in the episode Girlfriends and Boyfriends. The show was receiving critical acclaim, but, as is often the case, they were already hearing cancellation rumors and were looking for support.
Paul joined MSNBC-Sports as a writer on 2/2/00.
Another Freaks and Geeks episode with Joel, called Looks and Books, aired 2/7/00.
MST3K received another salute from Simpsons creator Matt Groenig, this time on his new animated series Futurama. On 2/27/00 an episode called Raging Bender included a scene where the Futurama cast was at a theater and Bender was making a lot of loud wise cracks about the show. Suddenly Crow and Tom can be seen sitting in the theater. Crow turns and tells Bender to be quiet.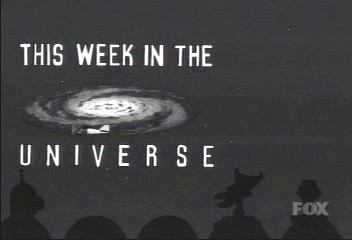 Rhino had a big day for MSTies on 3/21/00. They released Sidehackers, The Creeping Terror and Bloodlust on home video. They also put out Eegah! and The Brain That Wouldn't Die on DVD. This time the DVDs included some other features including the complete, unMSTied version of the movies.
Most MST fans got a chuckle when they learned that Fox Entertainment president, and MST3K nemesis, Doug Herzog had resigned in the wake of the Who Wants to Marry a Millionaire? fiasco.
4/1/00 brought some more good news when Mike, Kevin, Bill, Paul and Patrick opened their own website called Timmybighands.com. The site was developed as a place where they could regularly post stories, poems, cartoons or any other humorous items they came up with.
On 5/15/00 Mike and Bill appeared on the Ron & Fez radio show on WNEW-FM in New York and WJFK-FM in DC to promote Timmybighands (TBH) and discuss MST3K. They also announced that TBH would be holding a random drawing where 500 lucky entries would win a check for $1.18 and a Grand Prize winner would get $12.00. Visitors to TBH could enter over the next few days with the winners being notified the next week.
After four seasons on ABC Sabrina the Teenage Witch was moving to the WBN. Frank decided he would be moving on and started working on a new animated show for Nickelodeon called Invader Zim.
Harper Entertainment released Mike's book in June 2000. Mike Nelson's Movie Megacheese was a collection of columns from Home Theater Magazine. The book sold well and received very positive reviews.
NBC decided to cancel Freaks and Geeks, but announced they would air a mini-marathon of new episodes on 7/8/00. Trace appeared in Smooching and Mooching and The Little Things. Joel then had a pivotal part in Discos and Dragons. A familiar situation arose when Save F&G sites began to appear on the internet.
July 14-16, 2000 saw the Gateway 2 Sci-Fi Convention held at the Henry VIII Hotel in St Louis, MO. Mike, Kevin and Bill were featured guests and were joined by special guest Mary Jo Pehl. Over two days there were lively question and answer sessions and photo opportunities. Some bot builders even got to have their efforts judged by the masters themselves.

Barnes and Noble's website posted Mike Nelson's 10-step Ciné-Fest on 7/21/00. The list of must see movies was as follows:
| | |
| --- | --- |
| 1 | Dirty Harry |
| 2 | Broken Arrow |
| 3 | The Fugitive |
| 4 | Lost In Space |
| 5 | Speed |
| 6 | Mission: Impossible |
| 7 | Conan the Barbarian |
| 8 | The Mummy |
| 9 | The Omega Man |
| 10 | First Blood |
A few screaming MSTies joined thousands of squealing pre-pubescent boys when Tom Servo made a brief appearance during and *N Sync HBO concert broadcast on 7/27/00.
Bill Corbett and Rob Greenberg created an adult-oriented, animated series for Icebox. It was called Poker Night and was roughly based on the exploits of the card playing dogs seen in those creepy paintings. Bill and Mike provided voices for the series.
On 8/16/00 Rhino asked for input from viewers on which MST3K episodes they would like released on video and DVD. People could also make suggestions on what options they would like to see included on future DVDs.
The Satellite News posted a picture of Tom Servo at the Grand Canyon on 8/18/00. This Tom was the one sold by BBI after appearing in episode 1005 and was now owned by Don Cooper.
Freaks and Geeks fans were happy to hear that Fox Family had picked up the show and that it would start airing reruns of the first season on 8/29/00. Unfortunately, they had made no plans to produce any new shows.
The eBay prop auction came to an end on 9/6/00. For well over a year hundreds of props and set pieces had been auctioned off to MSTies around the world who were thrilled to get some memento of the show.
On 9/11/00 Mike was a guest speaker at Carnegie-Mellon University where he discussed why bad films are made and how can we stop it. He gave a reading from his Movie Megacheese and Coyote Ugly and Road House as specific examples.
Rhino finally released the results of their poll on 9/25/00. The top vote-getting videos and DVDs were:
| | | | |
| --- | --- | --- | --- |
| | Video | | DVD |
| 1 | Santa Claus Conquers the Martians | 1 | Manos: The Hands of Fate |
| 2 | The Crawling Eye | 2 | Santa Claus Conquers the Martians |
| 3 | Laserblast | 3 | Mitchell |
| 4 | Godzilla vs. Megalon | 4 | The Crawling Eye |
| 5 | Monster a-Go-Go | 5 | Laserblast |
| 6 | Bride of the Monster | 6 | Diabolik |
| 7 | Santa Claus | 7 | Godzilla vs. Megalon |
| 8 | Gamera | 8 | Gamera |
| 9 | War of the Colossal Beast | 9 | Santa Claus |
| 10 | Rocketship X-M | 10 | Pod People |
During September Josh created his website Stinkburger.com which primarily featured information about his wife, singer Allison MacLeod. Joel had helped design the cover art for Allison's album A Thousand Ways to Fall.
Trace appeared as Mr. Lacovara once more in the Freaks & Geeks episode Noshing & Moshing that aired 10/17/00 on FOX.
A legal battle began in November 2000 that would have some indirect effect on MSTies. Universal Studios Home Video division was suing Image Entertainment who had contracted the rights to release a number of DVDs, including MST3K: The Movie. Universal was upset that Image was selling them for too low of a price. The result of the disagreement was that Image would stop making the DVDs in spring 2001.
In December 2000 May Jo had an article published in the on-line magazine Our Precious Essence. Frank was hired the same month by the Drew Carey Show to "punch up the scripts."
Kevin would spend 2001 attending a different movie in a different place every day while working on a book titled A Year At The Movies for Harper Entertainment.
Beginning 1/6/01 the SFC would shift the show's time to 10 AM Saturday. They would continue to flip between 9 AM and 10 AM throughout the year.
Rhino issued Hellcats and Shorts 3 on video 1/30/01. The same day saw the release of Beginning of the End and Wild World of Batwoman on DVD, which again included the unMSTied versions.
Meanwhile all the ex-Brains were following new endeavors. Bill's latest play, Heckler, premiered at the Eye of the Storm Theater in Minneapolis on 2/2/01. In February Josh announced he would be leaving AFHV after four years. He would be focusing on helping his wife's music career. About the same time Trace let us know that he would be rejoining AFHV for the next season beginning in the summer of 2001.
TBH posted its last original updates on 2/21/01. They had decided to discontinue the site in order to work on other projects.
Mike hosted an airing of Carnival of Souls at the George Eastman House in Rochester, NY on 3/10/01. He autographed copies of his book while he was there.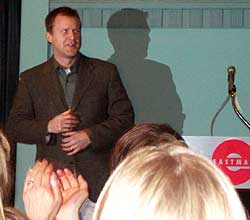 Paul (Chaplin) Schersten had an NPR commentary on 3/15/01 where he discussed his problems with how baseball parks are named these days,
The animated series Invader Zim that Frank had been working on debuted on Nickelodeon on 3/30/01. On 4/27/01 Frank had speaking roles as two different characters in episode 8, Attack of the Saucer Morons, playing both Frank and Boll. Frank then told us that he was leaving that show to focus on the Drew Carey Show where he would continue to write.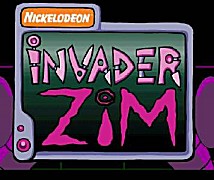 On 3/31/01, after one year of operation and volumes of humorous offerings, Timmybighands.com came to an end. The entire website and all it's content went up for sale on eBay from April 2-9, 2000, but failed to reach the reserve bid of $15,000.
Reruns of MST3K switched to 9 AM on 4/14/01.
The SFC dropped the MST3K chat room on 4/20/01 at the request of the maintainers of the Satellite News, the official hosts and moderators. The frequency, and quality, of the chats had been decreasing since the cancellation of the shows.
Trace made a brief appearance in episode 19 of season 2 of the NBC series the West Wing on 4/25/01. His character Cal shared a few lines with President Martin Sheen in the episode called Bad Moon Rising. (Note that in the aired credits Trace is listed as Tracy Beaulieu. This was corrected for the DVD release.)
The best news MSTies had received in quite some time was announced by the Satellite News on 5/1/01. The News had convinced a number of MST writers to fill in the season 7 information in the Amazing Colossal Episode Guide. That season was in the planning when the book was originally published and had never received the complete Brain's treatment. Over the next few weeks each episode was added to complete the book.
Mary Jo had an article What Color Is My Parachute, Dammit! posted in the on-line magazine Not My Desk on 5/4/01.
Weezer released the Green album on 5/15/01. The center fold out picture featured a live show that included the MST3K shadowrama in the lower right hand corner as part of the crowd. Lead singer Rivers Coumo has told us that he is a long time MSTie.
As one of the stops while preparing his book, Kevin Murphy attended the Cannes Film Festival on 5/20/01.
An MST3K reunion took place on 6/8/01 at the 9th Annual Toyota Comedy Festival in New York City. At 8 PM that evening in the Alfred Lerner Hall in Roone Arledge Auditorium of Columbia University fans got to see Joel, Trace, Frank, Kevin, Josh and Mary Jo together on stage for a panel question and answer session. Host Lizz Winstead took some questions submitted by attendees, but mostly directed the discussion toward what each person was currently doing and some reminiscing about the show. One highlight was a live sing-a-long of the theme song led by Joel and Josh. A few autographs were signed after the event.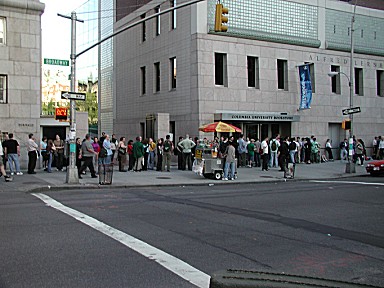 A new ABC television version of the popular Sierra computer game You Don't Know Jack debuted on 6/20/01. Joel wrote for the show, which was hosted by TV's Pee Wee Herman, Paul Reubens as Troy Stevens.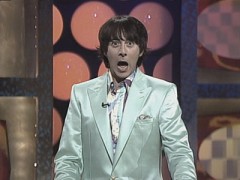 Gateway Sci-Fi Con 3 was held July 6-8, 2001 at the St Louis Airport Hilton. This year's guests included Frank and Trace.
The SFC switched the air time to 10 AM on 7/7/01 where it would stay for the next few months, except on 8/11 when it was 9 AM.
Mary Jo taught a workshop entitled Writing Your Humor at the Cranbrook Retreat for Writers in Bloomfield Hills, MI from July 26-30. From August 3-11 Bill performed in a solo comedy act called The Martian at the Minnesota Fringe Festival.
A show that Josh had written for called Dead Last premiered on the WB on 8/14/01. Then on 8/19/01 at 10:30 PM on Comedy Central a new version of the show Let's Bowl debuted. The show was co-created by ex-MST editor Tim Scott and would have various kinds of input and support from other ex-BBI staffers as Peter Rudrud, Beth "Beez" McKeever and Andrea Ducane.
MST moved back to the 9 AM Saturday time slot on 9/1/01. In a disturbing turn of events visitors to Gizmonics.com found that it had been taken over in September by a pornography site quite different from Joel's original concept.
In September 01 we found out the Joel had helped prepare the robot costumes used in the Rob Schrad production Robot Bastard.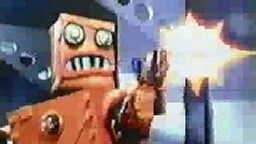 An announcement was posted in the Satellite News on 10/25/01 that the broadcast schedule for MST3K would stop at the end of December 2001. BBI had already announced on 9/21/01 that they didn't intend to shop the show around to other networks. It appeared that this would be the end of MST3K on commercial television.
Some of the ex-Brains were continuing to stay creatively busy though. After a sneak preview on 10/18/01, Edward the Less debuted on Scifi.com on 10/25/01. The Tolkien-esque story was shown in 5-minute animated segments. Voices were provided by MST alumni Mike, Kevin, Bill, Paul, Patrick, Mary Jo and MST3K writer Mike Dodge.
On 11/2/01 the Sci-Fi Channel Dominion hosted a live chat with Kevin Murphy. Kevin discussed Edward the Less, his upcoming book on the movie viewing experience and even confirmed that Mike had joined the writing staff of Let's Bowl for its second season on Comedy Central. Then on 11/20 two more DVDs were issued by Rhino when Manos: The Hands of Fate and Mitchell hit the shelves.
Next on 11/21/01 the SFC gave MST3K a short reprieve by extending the schedule out through January 2002. Therefore, at 9 AM on 1/26/01 the last episode broadcast would be part: the clonus horror (811).
Bill entered the SFC chat room on 11/28/01 and then Mary Jo told us what it was like for her to move back in with her parents in a short bit on NPR on 12/19/01.
The news many fans hoped for came on 1/2/02 when it was announced that MST3K would continue to be broadcast on the SFC for another year. Reruns would now be scheduled through the end on January 2003.
In January 2002 Kevin launched a website to announce his upcoming book coming out later that summer.
The 1/12-18/02 issue of TV Guide included the first of what would become a monthly article written by Mike. The new section, called The Watch Dog, would feature Mike's humorous slat on TV and life.
Mary Jo appeared once again on NPR's All Things Considered on 1/31/02 this time discussing her move to New York City. In February another season of AFHV started with Trace as writer and Josh as a consulting producer.
The Southwest/ Texas Chapter of the Popular Culture Association/ American Culture Association held it's regional conference in Albuquerque, NM from 2/13-17/02 at the Hilton. A number of MST3K papers were presented and were well received.
The pilot episode of show called People Traps premiered on Animal Planet on 2/18/02 at 9 PM. The host and head writer was none other than Trace.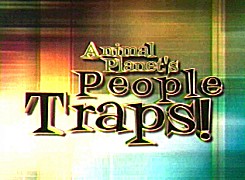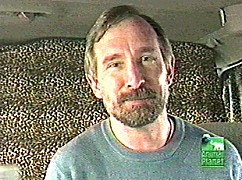 The Satellite News presented an exciting announcement on 2/19/02. A new CD-ROM game called Darkstar was nearing completion and would star Trace, Joel, Frank, Josh, Mary Jo, Beez and a non-BBI addition, Valli Florez. The J. Allen Williams production will be narrated by MST favorite Peter Graves. Most of the recording and filming of the non-comedic story was completed at Parallax Studios between July and December 2001. No release date was announced, but it certainly gave MSTies something to look forward to.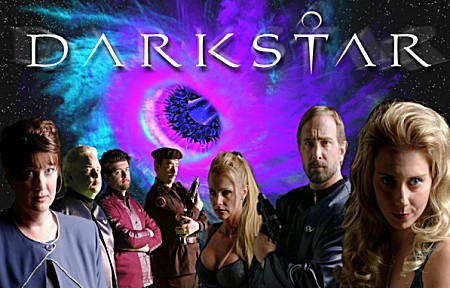 On 3/5/02 Mike Nelson's Mind Over Matters hit the shelves. Mike also began a radio and book signing tour to promote the collection of humorous stories about life and the human condition.
Josh had a long standing project finally reach the airwaves when My Guide To Becoming A Rock Star premiered on the WB at 8 PM on 3/14/02. Unfortunately, only four episodes aired before the show was dropped. On 3/23/02 Frank appeared on NBC's Late Friday hosted by Marc Maron.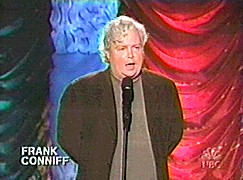 Rhino released two more DVDs on 3/26/02. I Accuse My Parents and Red Zone Cuba were now available.
Mary Jo was featured in a book entitled Life's A Stitch: The Best of Contemporary Woman's Humor released on 4/9/02. A month later Mary Jo would participate in an on-line chat on the Sci Fi Dominion on 5/2/02.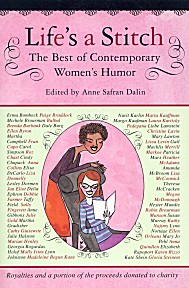 On 4/21/02 AMC announced they were developing a show with Mike Nelson called Movie Trailer. The premise would have Mike traveling around the country in a trailer to places were movies were shot and to gather stories and memorabilia that was left behind.
Kevin Murphy's feat of attending at least one movie a day for a year in a different theater was picked up by Ripley's Believe it Or Not on 4/27/02.
When the Ghostbusters DVD was released on 6/10/02 many MSTies noticed that the audio commentary was performed by director Ivan Reitman and screenwriter/star Harold Ramis who appeared in silhouette theater seats at the bottom of the screen.
On 6/11/02 Rhino released The Crawling Hand and Hellcats on DVD. These discs included the un-MSTied versions of the movies. Kevin began writing a new column called The Bottom Shelf in the May/June 02 issue of Total Movie & Entertainment magazine. Meanwhile, Joel appeared in a play called Up Your Giggy at the Court Theatre in Los Angeles on 6/21-23 and 6/27-30. Tom Servo even made an appearance in the 7/3/02 comic strip The Class Menagerie.
Mary Jo was back at the Cranbrook Institute in Michigan for the 6th Annual Retreat for Writers from 7/22-26/02. On 7/24/02 Bill Corbett appeared at the Thurber House in Columbus, OH presenting a reading of his new play Hungry Ghosts. Then on 8/23/02 Mary Jo had another piece on NPR's All Things Considered called New York Apartment Locks. As August ended Kevin's much anticipated book A Year At The Movies: One Man's Filmgoing Odyssey was released by Harper-Collins. Kevin began an extended period of book signings and radio appearances to help promote the release. Kevin redesigned his own website on 8/27/02 promoting the book and listing up coming appearance information. It also gave MSTies a chance to write their own favorite movie going experiences. Many fans were excited to get personal responses from Kevin.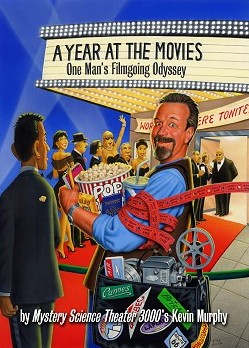 Kevin and Mike both attended Dragon*Con 2002 at the Atlanta Hyatt Regency from 8/30/02 to 9/2/02. They even served as Masters of Ceremonies for some events.
On September 3rd, in conjunction with Dragon*Con, The Satellite News announced a new line of MST3K collectibles and apparel featuring logos from the Satellite News, Daddy-O's Drive-In Dirt, Old Time Billy Slater's Tape Tradin' Post and Ward E.
On 9/13/02 a DVD collection of Minneapolis comedian Rich Kronfeld's comedy routines called Factory Accident Sex was released. Mary Jo and Tim Scott had a number of cameo appearances. Rich is probably best known for his role on the TV series Let's Bowl.
Mike launched his own website on 9/16/02 that would occasional feature new, original works. 9/22/02 at 7:30 PM saw the debut of a show on the Oxygen Network called O2Be starring Liz Winstead and Frank as TV's Conniff. Then on September 27 Entertainment Weekly printed a favorable review of Kevin's book. Kevin was even interviewed by Liane Hansen about his book for an NPR spot on 9/29/02.
Rhino released a 4-DVD set on 11/12/02 with Catalina Caper, The Creeping Terror, Bloodlust and The Skydivers. Each DVD included the unMSTied version of the movie and the whole set came in an interactive package.
Kevin's busy publicity tour had him appearing on NBC Weekend Today with Soledad O'Brien and David Bloom at 7AM on 11/30/02. He next appeared on NPR on 12/29/02 with his personal reviews of the year's movie releases. On Sunday, 1/5/03 he hosted an event at the historic Egyptian Theater in Hollywood. Kevin hosted screenings of Heart of the World, the Bugs Bunny short Long Haired Hare and a rare Peter Jackson film called Forgotten Silver. He also showed up on Tech TV's The Screen Savers at 7 PM on 1/16/03 being interviewed by Martin while seated in the Egyptian Theater.
The Sci-Fi Channel changed their logo on 12/21/02, but it still appeared in the lower left corner of the screen. Then in January they began showing small previews for upcoming shows in the black portion across the bottom of the screen. This was a familiar sight to MSTies from the Comedy Central days when they tried running small jokes across the bottom of the screen during episodes.
STARZ! had begun regularly showing MST3K: The Movie again in December 2002. From 1/4/03 to 1/10/03 the station featured an entire week of MST3K:TM being showed three times every day at 2:30 AM, 10:30 AM and 6:30 PM.
As 2003 began Kevin became a regular on NPR's weekend edition. His first offering of the year, on 1/19/03, was a not entirely positive overview of the Golden Globe awards.
On 1/26/03 at 12:05 AM (so actually 1/27) the Jimmy Kimmel show debuted on ABC. Airing each weeknight the show employed Joel as a writer, producer and director of digital effects. Joel's brother Jim was also on the staff.
For three consecutive Saturday evenings at 7 PM on February 8, 15 and 22 Mary Jo appeared in her solo show Here, There and Underwear at the Bryant Lake Bowl in Minneapolis. She also made an appearance as a guest on the live web cast of the sursumcorda radio hour at 10 PM on 2/15/03.
Rhino had released the DVD 4-Pack volume 2 on 2/11/03 with Cave Dwellers (301), Pod People (303), Angels' Revenge (622) and Shorts Volume 1, but unfortunately there were no special features.
Kevin made another appearance on NPR on 2/16/03 discussing the Oscar nominees for Best Documentary Feature. He would be on NPR again on 3/9/03 with a piece Blurbs about film critic sound bites.
Bill Corbett was also keeping busy in February and March. His new play The Stuff of Dreams begins an extended tour of he Midwest on 2/27/03 playing in a wide variety of venues. The play is a humorous dialogue between historical figures Sophocles, Shakespeare, Henrik Ibsen, Edmund Rostand and Arthur Miller. On 3/6 and 3/8 Bill attended productions of his play Heckler at the Adrienne Theatre in Philadelphia. He also participated in question & answer sessions after the shows.
Kevin attended the Wisconsin Film Festival at the Bartell Theatre in Madison. He introduced the showing of Giant Spider Invasion by Wisconsin's own Bill Rebane. On 3/2/03 a month long run of MST3K:TM the movie began on WAM!, a cable movie station geared toward younger audiences.
MSTies Anonymous of Colorado presented a unique live performance on 3/29/03. A live stage play called The Dreaded Women of San Pedro! by Colorado playwright Tyler Davis was performed in the Lory Student Center Theater of Colorado State University in Fort Collins, CO. Three live performers sat in the front and riffed the play a la MST3K. The show proved so successful that a second performance was scheduled for 4/23/03.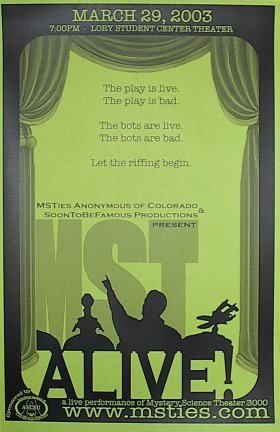 Another DVD 4-Pack was issued by Rhino on 4/8/03. Volume 3 included The Sidehackers (202), The Unearthly (320), The Atomic Brain (518) and Shorts 2. This time each episode included outtakes of the host segments.
The big event on 4/15/03 was the release of the book Mike Nelson's Death Rat. Mike's first novel was a humorous look at the escapades of an aging author named Pontius Feeb as he attempted to make it big in the world of adventure stories.
On 5/1/03 Best Brains announced that Rachel Taylor of Portsmouth, OH was the 100,000th member of the official MST3K fan club. Also on four nights in May (2, 3, 9 and 10) MST Shorts were shown at midnight gatherings at the Rosebud Cinema Drafthouse in Milwaukee, WI. Then on 5-19-03 Mike hosted an event called Monster Hits: Gandalf vs. Godzilla! with music performed by the Plymouth Concert Band at Wyzata High School of Plymouth, MN.
Kevin showed up again on NPR on 5/25/03 with a piece about the annoying 20 minutes of commercials at movie theaters. The broadcast was called Regal Rant.
Trace attended DukCon 12, a Fantasy, Fiction and Fact convention in Chicago, IL from 6/6/03 to 6/8/03. Trace was billed as the Mad Scientist guest of honor and joined into several panel discussions and autograph sessions. Also of some MST3K interest was the appearance of the Great Luke Ski who sang parodies of popular songs including one entitled Mystery Science Theater Picture Show based on the Rocky Horror Theme. The folks at the Satellite News had a contest for a signed poster of Dr. Forrester, which was won by Patrick Hannah of Fullerton, CA. Also on display was an original SOL prop that Trace personally help restore.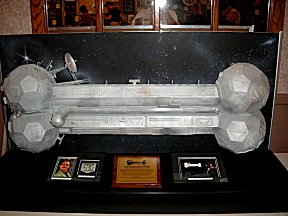 Mary Jo taught a Writing Your Humor Workshop on 6/7 and 6/14 for SASE: The Write Place in Minneapolis.
The New Tom Green Show debuted at midnight on 6/23/03 on MTV with Frank on the writing staff. The show launched to high praise, but viewers tailed off rapidly. MTV announced the show was cancelled on 9/23/03.
Meanwhile, many a MSTie's heart was broken when Beth "Beez" McKeever was married on 6/30/03. She decided to unload some cool props and art on eBay to help fund her move to England with her new husband, Welsh artist Robin Eynon.
Kevin continued to appear on NPR with broadcasts on 7/6/03 regarding outdoor movie viewing, 8/17/03 where he watched five summer blockbusters all in one day, including T3, Pirates of the Caribbean, and Seabiscuit and finally on 9/14/03 when he discussed offbeat movies being released in the fall, such as Dummy, Once Upon a Time in Mexico and Bubba Ho-tep.
On 8/26/03 The Simpsons Season 3 DVD set came out. If you listen to the audio commentary during the Saturdays of Thunder episode we learn that the folks writing for the Simpsons knew they had finally made it when they heard MST use their McBain shout "MENDOZA!" as a riff in one of their shows.
Mike and Kevin chaired the Satire panel at the second annual Vegas Valley Book Festival. The festival took place in Las Vegas, NV from 10/23 to 10/25/03.
The director's cut of Alien was released and Kevin took the opportunity to review it for NPR on 10/26/03.
When the latest broadcast schedule for MST3K was released by the Sci-Fi Channel on 11/2/03 it was announced that the show was not going to be picked up for another year. Rights to movies were continuing to run out and the number of available episodes was diminishing quickly. Some attempts began immediately to convince the SFC to extend the run or to move the show back to Comedy Central, but none seemed very feasible. Therefore, it was pretty much assured that the long run of MST3K would end at 11 AM EST on 1/31/04 at the conclusion of the airing of The Screaming Skull (912).
The DVD 4-Pack, Volume 4, was issued by Rhino on 11/18/03 with Sci-Fi Channel episodes for the first time. Space Mutiny (820), Overdrawn at the Memory Bank (822), The Girl in Gold Boots (1002) and Hamlet (1009) would also include short intro by Mike Nelson and some of the original trailers and TV spots.
Mary Jo attended the Midwest FurFest in Schaumburg, IL from 11/22-23/03. I understand FurFest is a gathering of folks that like to dress up as animals.
On 12/12/03 two props used in the movie Laserblast were sold on eBay. One of the alien creature models sold for $600 while the arm-mounted laser blaster went for a whopping $3750, although that prop was accompanied by a Star Trek Tricorder.
Kevin was featured on NPR once again on 12/28/03 with a hilarious piece called the Affleck Effect.
2004 began with the haunting knowledge that January was the last month to see MST3K on network TV. It was good to hear on 1/9/04 that the Satellite News would be absorbing all the MST content from the Sci-Fi Dominion. Just two days later on 1/11 Mike, Kevin and Bill attended SF Sketchfest: The San Francisco Sketch Comedy Festival held at Cobb's Comedy Club. The guys presented a short performance called the State of Bad Movies Today where Kevin read his recent NPR commentary about the Affleck Effect. They were also in a panel discussion.
Mary Jo was on NPR's All Things Considered on 1/23 as part of a show called Smoking Memories: The Scent of a Bygone World. Kevin was also on NPR on 1/25 when Kevin the Wise gave his Golden Globe prognostications. On 1/27/04 Blood Hook was released on DVD packaged with Zombie Island Massacre and Blades as a Troma Triple B-Header.
Finally at 9 AM 1/31/04 The Screaming Skull (912) aired on the Sci-Fi Channel. By the time the stinger ended 2 hours later MST was gone from the network airwaves. Thousands of MSTies will keep it alive forever in websites, chat rooms and watching in their living rooms.